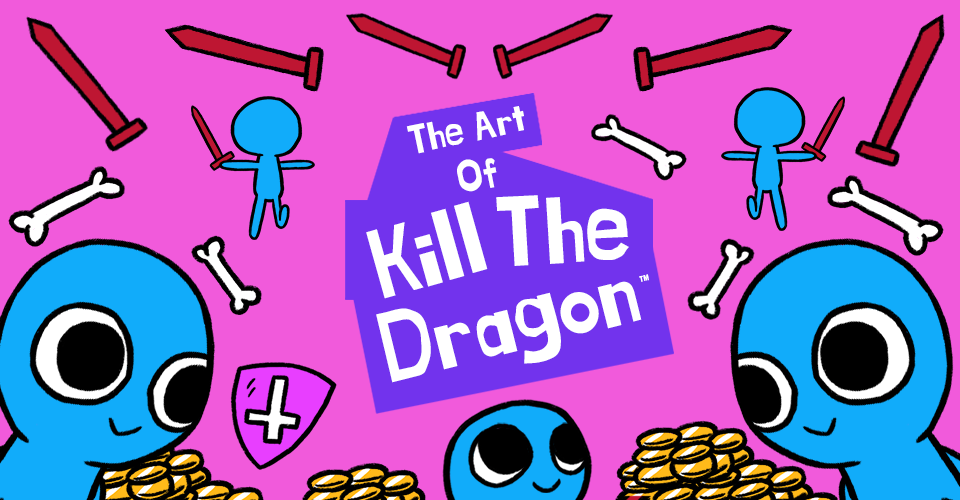 The Art of Kill The Dragon
What you'll be getting is a collection of all the main art, some rough sketches from the creation of the game, and some commentary on a PDF.
Features:
- Created by Wallace Lovecraft!
- 58 pages!
- All death art without words and text on them!
- Rough sketches of some of the art!
- Has some commentary and behind the scene info of the game!
Languages supported:
Simplified Chinese - 简体中文
您将在 PDF 中获得所有主要艺术作品的集合、游戏创作的一些粗略草图以及一些评论。

Russian - Русский

Вы получите коллекцию иллюстраций, несколько набросков и некоторые комментарии к PDF-файлу.

Spanish Spain - Español España

Lo que obtendrás es una colección de todo el arte principal, algunos bocetos de la creación del juego y algunos comentarios en un PDF.

Portuguese Brazil - Português do Brasil

O que você vai receber é uma coleção de toda a arte principal, alguns esboços ásperos da criação do jogo, e alguns comentários sobre um PDF.

Korean - 한국인

얻을 수 있는 것은 모든 주요 아트 컬렉션, 게임 제작의 대략적인 스케치 및 휴대용 문서 형식에 대한 일부 설명입니다.

German - Deutsch

Was Sie erhalten, ist eine Sammlung der wichtigsten Grafiken, einige grobe Skizzen aus der Entwicklung des Spiels und einige Kommentare zu einem tragbaren Dokumentformat.

French - Français

Ce que vous obtiendrez est une collection de tout l'art principal, quelques croquis approximatifs de la création du jeu et des commentaires sur un PDF.

Polish - Polskie

To, co otrzymasz, to zbiór wszystkich głównych dzieł sztuki, kilka wstępnych szkiców z tworzenia gry oraz komentarz na temat potrzebnego przenośnego czytnika dokumentów.

Japanese - 日本

取得するのは、すべての主要なアートのコレクション、ゲームの作成からのいくつかのラフスケッチ、および必要なポータブルドキュメント形式リーダーに関するいくつかの解説です。

~~~~~~~~~~~~~~~~~~~~~~~~~~~~~~~~~~~~~~~~~~~~~~~~~~~~~~~~~~~

The developers describe the content like this:
Cartoon violence and gory images that were seen in the game.

~~~~~~~~~~~~~~~~~~~~~~~~~~~~~~~~~~~~~~~~~~~~~~~~~~~~~~~~~~~

The Art Of Kill The Dragon © 2021 Wallace Lovecraft

| | |
| --- | --- |
| Status | Released |
| Category | Book |
| Author | WallaceLovecraft |
| Tags | Art Book, Casual, Colorful, Comics, Game Design, Gore, Hand-drawn, Relaxing, Short, zine |
| Average session | About a half-hour |
| Languages | German, Spanish; Castilian, French, Japanese, Korean, Polish, Portuguese (Brazil), Russian, Chinese (Simplified) |
| Links | Steam |
Purchase
In order to download this book you must purchase it at or above the minimum price of $2 USD. You will get access to the following files:
The_Art_Of_Kill_The_Dragon.zip
61 MB
The_Art_Of_Kill_The_Dragon_simplified_chinese.zip
61 MB
The_Art_Of_Kill_The_Dragon_russian.zip
61 MB
The_Art_Of_Kill_The_Dragon_spanish_spain.zip
61 MB
The_Art_Of_Kill_The_Dragon_portuguese_brazil.zip
61 MB
The_Art_Of_Kill_The_Dragon_korean.zip
61 MB
The_Art_Of_Kill_The_Dragon_german.zip
61 MB
The_Art_Of_Kill_The_Dragon_french.zip
61 MB
The_Art_Of_Kill_The_Dragon_polish.zip
60 MB
The_Art_Of_Kill_The_Dragon_japanese.zip
61 MB